Dress Code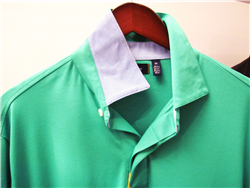 We hope you will enjoy your day at Bury Golf Club and in order to maintain the standards we ask of our own members we ask you to be aware of our dress code and etiquette policies.
We do NOT allow jeans,tee shirts,collarless shirts or tracksuits on the course. Smart jeans and smart, clean training shoes are now allowed in the Clubhouse.
Tailored shorts are acceptable when worn with matching sports socks.
We reserve the right to refuse entry to the course or clubhouse if you do not meet the dress code.
Golf caps must be removed before entering the clubhouse.
Mobile phones should only be used on the course in an emergency.